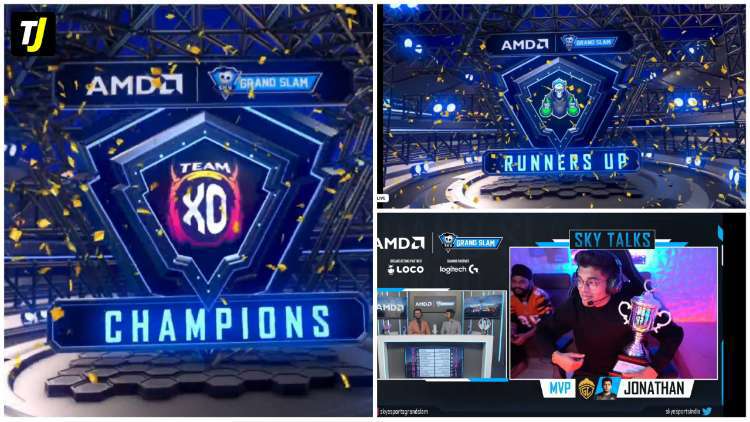 AMD Skyesports Grand Slam Season 1 BGMI Won by Team XO with 5 Winner Winner Chicken Dinner, Placement Point 290 , Finishes 154, and Total Point 444 and GodL Jonathan become Top Fragger With 69 Finishes in Grand Final. and Second Top Fragger TSM Aquanox With 67 Finishes.
It seemed that both these teams had a lot of competition for the second and third. Team SOUL becomes the runner-up and Skylightz Gaming will take the third position.
Which teams today top and Overall standing, and each game-winners. So check out more detail below. If you need any information related to this tournament, then click here and see the latest standings. You can read more artists about BGMI.
Winner
BGMI Valentine's Day Face Off Winner
Total Prize Pool: Rs. 15,00,000 INR.
1st Team Natasha-Owais Price INR 8,00,000
2nd Team Incognito-Game Strange Price INR 3,00,000
3rd Team Sherlock-Snax Price INR 1,50,000
4th Team Sherlock-Snax Price INR 1,50,000
5th Team Sherlock-Snax Price INR 1,50,000
6th Team Sherlock-Snax Price INR 1,50,000
MVP
MVP of The Tournament Prize Pool 1,00,000 Rs
GodL Jonathan Become the Top Fagger with 69 Finishes in AMD Skyesports Grand Slam Season 1 BGMI.
MOST Finishes Team
Team TSM with  MOST Finishes 50,000 Rs
Top 5 Player
GodL Jonathan with 69 Finish
TSM Aquanox with 67 Finish
TSM Ninja with 63 Finish
8bit Madman with 58 Finish
Soul Akshat with 58 Finish
Overall Standing
Team XO – 444 Total Point
Team SOUL – 416 Total Point
Skylightz Gaming – 387 Total Point
Celsius Esports  – 362 Total Point
TSM- 359 total Point
Team 8BIT- 345 Total Point
GodLike Esport – 342 Total Point
Enigma Gaming – 328 Total Point

Team Entity-

295 Total Point

Team Forever –

290 Total Point

Orangutan gaming-

288 Total Point

Chemin esports – 274 Total Point
Team Mayavi  – 248 Total Point

Team Nugget –

227

Total Point

7Sea Esports –

224

Total Point

Velocity Gaming –

165 Total Point
Also Read: BGMI Godlike Introduces The All Girls BGMI Roster Check details
Grand Finals Playing Team
Velocity Gaming, Team SOUL, GodL esports, 7Sea, Team TSM, Chemin esports, Celsius Esports, Orangutan, Team Entity, Team 8BIT, Team Mayavi, Skylightz Gaming, Team Forever, Team XO, Team Nugget, and Enigma Gaming.
Where you watch this Tournament
The Skyesports Grand Slam BGMI Grand Finals Grand Finals BGMI You can watch the tournament On the Battlegrounds Mobile India YouTube channel.