Gaming
Mobile Gaming
Top 5 Games Like BGMI For Android and IOS In 2024
In case if you searching for the best game for Android or IOS, we are here to help.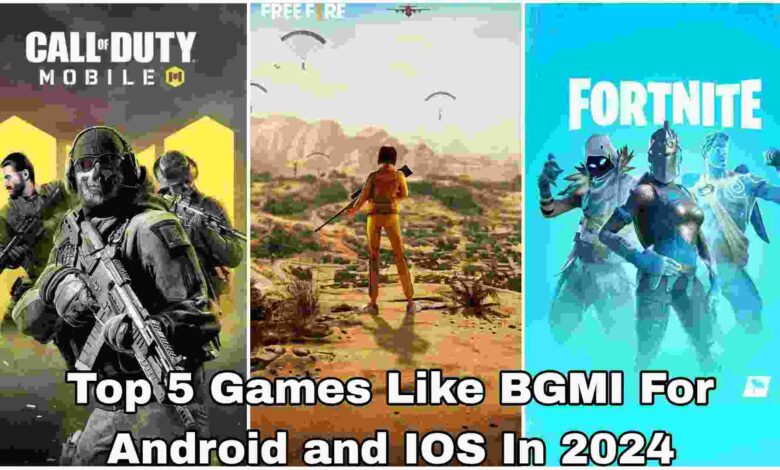 Remember the Indian govt had banned 59 Chinese apps citing the sovereignty and integrity of Indian cyberspace? At that time the Indian Government also banned PUBG Mobile, the popular battle Royale game. Krafton, the company behind PUBG Introduced a new battle Royale game Battlegrounds Mobile India soon. Top 5 Games Like BGMI For Android and IOS In 2024
It also faced the same fate as PUBG. While the Indian Government has removed the ban on BGMI now temporarily, PUBG remains Banned in the Country combat we have carefully curated the 5 best games like PUBG Mobile for both Android and iOS. So, read on to play some alternatives, until the govt. Figure out what to do with PUBG mobile.
Top 5 Games Like BGMI For Android and IOS In 2024
 Call of Duty: Mobile
Call of Duty: Mobile was Launched for both Android and iOS to give stiff competition to PUBG Mobile. Not to mention, CoD: Mobile is Published by Activision, a US-based Studio so the chances are next to nothing for the game to be banned. The best part about Call of Duty: Mobile is that it offers everything you used to love playing PUBG. You have a 100-player Battle Royale Mode, a 5v5 deathmatch, multiplayer modes like CoD Black Ops and much more.
Along with that, you can endlessly customize your character, weapons unlock new Characters, earn rewards,  and much more. Best of all, the game takes up around 2GB of Storage and runs pretty well on budget Android devices so it can sufficiently replace PUBG Mobile In the Indian Market Simply put, at this point, Call of Duty Mobile is the best BGMI alternative that you can hop on.
 Fortnite
With Fortnite ousted From the Apple App Store and PUBG Banned in India, it is time for Epic to tap the Indian Market. Since more than 75% of Indian Smartphone users use Android, Fortnite has the opportunity to grow big here but, there is one thing that makes me put it in second place and that is it's humongous download size and compatibility requirements.
Not to forget, Fortnite has also been removed from the Play Store, but you do have the option to sideload the game through its store. This installation process is rather seamless and you can learn how to Install Fortnite on Android Without Play Store from our guide. Coming to my main complaint, Fortnite Takes around 8GB of Storage which is a big ask for budget Android devices, especially in India.
On top of that, Fortnite needs Android devices running Android 8 or higher, at least 4GB of RAM, a GPU that features Adreno 530/Mali G71 Or higher, and lastly, a mid to high-tier processor. In other terms, if your Android devices come with a Snapdragon 8-series processor then you are good to go. Along with that, now some 6-series Processors are also able to handle Fortnite Pretty well.
Moving to the Gameplay, Fortnite is a game that is very similar to PUBG mobile. You have four distinct modes: 100 Players Battle Royale, Party Royale, Creative, and Save the World. Park Creative is where you can create your island and save the world is a co-op tower defense survival game.
I would say in terms of gameplay Fortnite is better than PUBG mobile. And now that a new Fortnite season has just started, you can't afford to miss this opportunity.
Garena Free Fire Max
If you're not yet comfortable Jumping into a high-capacity fight, Free Fire Mac Cloud is the game you like first. The controls are all on the Screen and Simple to navigate, but the highlight for you is that only have to go against 49 other users in a 10-minute window to survive until the end. That's a quick game to hone all your skills before an intense battle the basics of the battle Royale mode all remain the same. You'll drop on a remote island and will have to find good weapons, as well as medkits, and stay inside the safe zone to win the battle.
You could also form 4-man Squads and talk amongst yourselves to devise a strategy with in-game voice chat. Their graphics are smooth, so you wouldn't necessarily face any lag during the gameplay.
 New state Mobile
Developed by Krafton, the Parent company of PUBG, New State Mobile Takes place in the distant future in PUBG Universe where economic instability has created class segregation amongst the rich and poor. For people who want to escape their harsh lifestyle, they take part in the Battlegrounds the eponymous survival tournament, and the one standing tall gets a ticket to escape their harsh living standards.
New state Mobile Features Similar gameplay PUBG fans are used to. It still locations. The district difference between this game and PUBG Mobile is the Graphics, and gadgets like drones, etc. To Fight against opponents. New State Mobile also Features exclusive new vehicles. If you want an alternative to PUBG Mode, yet Something distinct, New State Mobile is a great alternative.
Badlanders
While not technically a battle Royale, Badlanders follows Gameplay that is similar to the battle Royale Formula you still get into the game and fend off opponent players. You will still scavenge for materials, items, and even guns. The only thing changing is that players can bring the loot procured from the map, and sell them in a player-traded market. Furthermore, the money procured from selling your loot can be used to purchase better gear. If players for some reason get taken out. They lose everything they carried in that run.
Badlanders is perfect for people that love their games thrilling, and with high risk and reward.