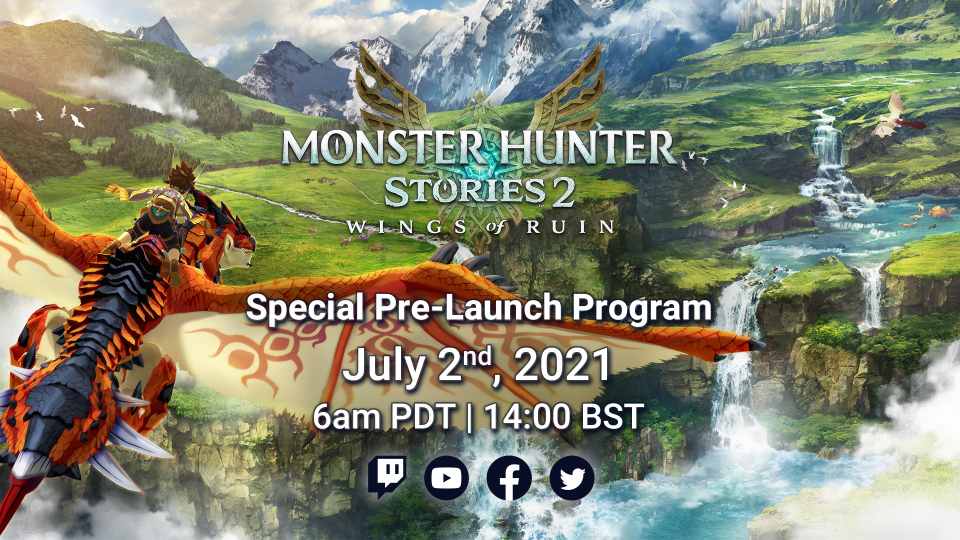 Monster Hunter Stories 2 Wings of Ruin is an Upcoming role playing video games developed and Published By Capcom for the Nintendo Switch and Microsoft Windows it is a spinoff Title in the Monster Hunter series and a sequel to Monster Hunter Stories The game Is Scheduled To release WorldWide on July 9 2021
Monster Hunter's turn based RPG Series returns with its second installment Will Your Special Bond With These Monsters bring hope or destination
Monster Hunter stories 2 wings of Ruin Per-registration
Tune is on July 2nd for our final preview of Monster Hunter Stories 2 Wings of Ruin before launch Featuring
• launch
• Co Op gameplay
• Behind the scenes
• Title update info
Monster Hunter stories 2 Wings of Ruin In Now available for per – Oder!
#MHStories2 Special Pre-Launch Program starts in 24 hours!

📺 https://t.co/q8j5Md6naG pic.twitter.com/g9avyfbSKm

— Capcom USA (@CapcomUSA_) July 1, 2021
Per Order Incentive
• Purchase by July 8 2021 11.59PM EDT to receive the Kamura maiden Outfit for Ena This Outfit let's You dress Ena as hub maiden from kamura Village as featured in Monster Hunter Rises
• May become available at a later date
• Changes Ena appearance Only
• Monster Hunter Rise rated Teen
A new adventure awaits you in this second Installment of the turn based RPG Series set in The World Wide of Monster Hunter Become a Rider and From bonds with friendly Monster Know as Monsties To Fight alongside Them as you take part in an epic story
You play as the grandson of red a legendary rider The story begins With a fateful encounter with Ena With the Potential To hatch into a legendary Rathalos Which Could wreck havoc if awakened to its destructive Power
Embark on journey Which Will test The Bond's of friendship in a changing World and discover The Truth behind The legends of old .