Tech
Sehore News (सीहोर् न्यूज़) Corona Update, Farmer Related, Student's Announcements & Sehore Railway Station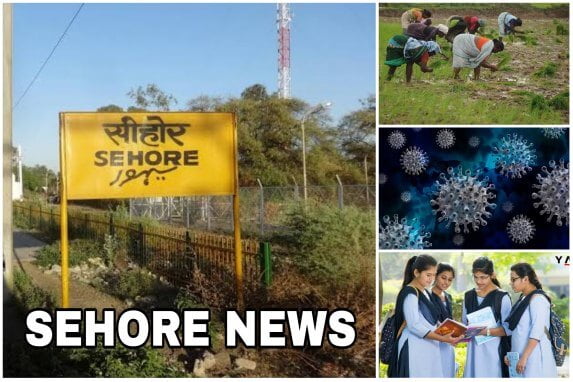 Sehore News (सीहोर् न्यूज़) Corona Update, Farmer Related, Student's Announcements & Sehore Railway Station
Sehore News DISTRICT CORONA UPDATE
Coronavirus speed slows down 7 new positives have been found in the district on Sunday.
The maximum number of three positives have been met by Ashta and two by Ichawar.1-1 have been found from Sehore and Nasrullaganj.
The number of active positives in the district has gone up to 346, 14 persons have been discharged after recovery.
So far 1646 coronaviruses have been cured, 41 people have died due to corona in the district.
RELATED TO FARMER'S Sehore News

Today bumper may come in the Farmer's market.The agricultural produce of the district is going to open on Monday after the one-day Sunday holiday, there may be a bumper arrival in the mandis. Are able to Sell.
Last Friday, the market was closed due to new moon and it was closed on Saturday and it was closed on Sunday due to the holiday, so when the market opens on Monday, there is a possibility of good arrivals.
Sehore News (सीहोर् न्यूज़) STUDENT NEWS
Under the Merit cum Means Scholarship Scheme of Pre-Matric Post Matric to be given to students belonging to minority
communities in the academic session 2020 21, applications from new and renewed students will be filled online by 31 October.
Applications of backward class students will be forwarded online from the educational institution level, the last date for forwarding has been fixed as November
SANCHI UNIVERSITY ADMISSION UPTO 25 OCTOBER Sehore News

Sanchi Buddhist Indian University of Knowledge Studies has extended the last date for admission in the academic session 2020 21. Interested students can apply till 25 October.To take admission in the course one has to apply online.
SEHORE DISTRICT RAILWAY STATION PROBLEM Sehore News

The train is not stopping at Sehore railway station in Corona time.
On Sunday, the National Human Rights Forum submitted a memorandum in the name of DRM to the railway station superintendent, demanding the stoppage of trains at Sehore railway station.
Clearly Warning:- The platform has warned that if the trains are not stopped at Sehore railway station in 15 days, agitation will be done.