Friends if we talk about wireless earphone wireless neckband earphones are very practical. Specially for the ones who listen to music all day and need their earphones everywhere. The TWS earphones are popular now day but there's one thing I do not like about them is that there are chances of them falling off. If you are in gym and while running if you are get sweaty there are chances they might slip and fall off. Here we show you Top 5 Best Bluetooth Neckband list.
But with neckband wireless earphones even if that same problem ok yours it would not exactly be a problem they will stick around your neck. So this is the most important thing and that is why in this post I am going to tell you about Top 5 Best Bluetooth Neckband Earphones Under Rs 1500.
Also Read : Oneplus nord 2 is Officially launched in India with Dimensity 1200 and more
Minimum criteria
Around 10mm drivers, IP certification, minimum battery with 7-10 hours playback time Vikas neckbands are generally used for long. If it stop working in the middle then what point right it should have in in line mic and at least Bluetooth 5.0 for multi device support.
Top 5 Best Bluetooth Neckband
2-3 things are good about this one and one thing is not that good. It comes under thousand rupees so if your budget is tired then you can check it out it has the biggest driver (12mm).
The problem with this one is that has only 7 hour battery life which could have been better by adding a little thickness to the neckband. And that is why it is fifth place has a 7 hour battery IPX5 certification Bluetooth 5.0 with an inline mic all these features are there. But in our lives definitely glide 120 comes at fifth number.
Redmi earphones have good build quality and the redmi SonicBass is no different they come at rupees 1299. There is one thing which is not that good and that is why it is number 48 has 9.2 mm driver the audio quality is ok. We listened to it and I am telling it is good but the 9.2 mm drivers are slightly less and that's why they are in 4th position.
Rest all other things are there comes in two colours blue and black they have IPX4 certification and inline mic with bluetooth 5.0.So it's all there. Forget to tell you about the battery it is less and last up to 12 hours we should get you through the day as you will charge by the evening. some other earphones provide up to 30 to 40 hours but these have a little less battery.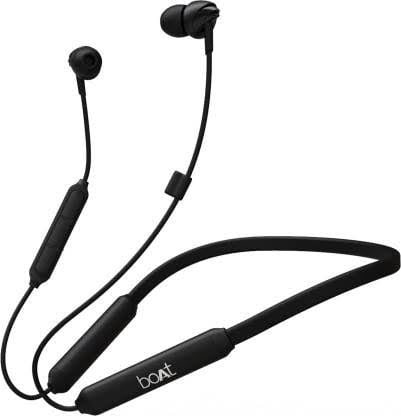 Day comes add rupees 1399 the most expensive in our list but during offers you get a discount of 100-200 rupees less. There are all round neck Bank earphones I'd say because the last 4:30 hours have 10mm drivers comes with IPX4 certification Bluetooth 5.0.
It was recently launched. There one good thing, it come with realme link app support which means you can pair them with the realme link app so you might get software update which might improve them. Also if you want to change the touch function you can do that too with the realme link app and that's a big positive.
Otherwise the sound is good it has 11.2 mm driver they are quite loud and  for the base, the dizo wireless are great. And become of that including the price rupees 1299 and all the other things make it stand at second position.
Is MSc 14 hours battery life that means it run for about 2-3 days on a single charge that's crazy. Which you don't get any other earphones so the 40 hours life battery, IPX7 and 10mm drivers with the price of 1299.
I think for 1299 rupees you get a lot that puts the boAt rockerz 255 Pro+ at first position. That is our Top 5 Best Bluetooth Neckband list.