Mobile Gaming
Best GFX Tools For PUBG Mobile/COD On Android & iOS Mobile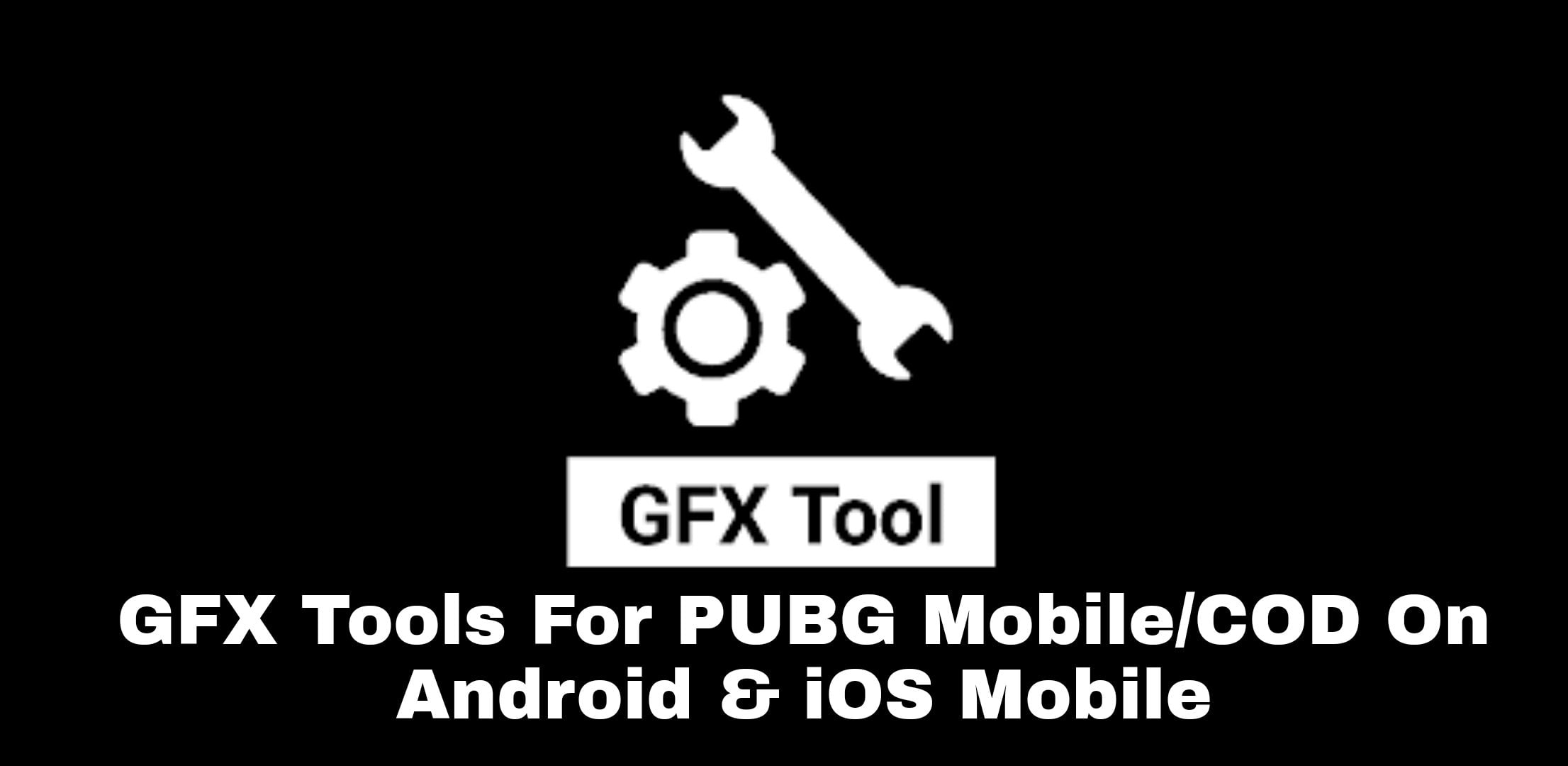 These Days, People play more games than ever, game's like PUBG, Free Fire, and CODM For Android and iOS. Using the best GFX Tools, you will be able to increase or decrease any game graphics, change the screen resolution, and get smooth gameplay. So if your device does not meet some Game's minimum requirements, you can make use of the best GFX Tools to get the best performance settings without lag or game freezing.
How GFX Tool Work
Many have not heard Of GFX Tool For Android and iOS, you can play any game in your smartphone like PUBG, Even through your device Ram is 1.5GB. all you need to do is use any game Launcher & Optimizer Apps mentioned in this post to Reduce some unnecessary animations and Graphics such as Shadow Effects and Anti aliasing. Also, some devices are able to get more graphics Options like high and Ultra using these tools of the option was disabled by the game automatically.
Why does your device lag after increasing the FPS? The answer depends on your devices GPU And Ram, if there are few resources available and you increase the graphics more than what your device handle, the PUBG Game or whatever game you have installed will lag. It is good you reduce some unnecessary animations first before increasing to Ultra Settings.
Today, has mentioned the 10 best GFX Tools For Android and iOS, they can play games like PUBG, Call of Duty Mobile, Free Fire or Fortnite. If you are love High graphics then here how to play PUBG Mobile at 60 FPS at Low Devices with the use of the GFX Tool.
GFX Tools For Android & iOS in 2022
So here are the 10 best GFX Tools For Games that work without an emulator on iOS and Android Mobile devices. Some available on the Play Store might not be developed For iPhone due to lack of Available apps, so the list will contain only links to available apps.
1. GFX Tools For PUBG
This is the first and still the best available for Android devices, it Cannot be downloaded on iPhone devices. This tool optimizes Your game Performance and has lots of features to Customize the game graphics to get the highest available Frame Rates possible the Android app is able to Change the Screen resolution of any game, you can unlock the Option For HDR Graphics and Ultra FPS Levels, Change the games' Shadow settings for smooth gameplay, reduces lag with no frame drop. This best GFX Tool Works Perfectly For the lastest Playeruknown's Battleground So you are good to go.
2 GFX Tool – Free Fire Bosster
This tool works well on the Free Fire games, if you want to increase Graphics of the game, you can modify the game file using this app and then you get smoother gameplay and increased Performance. How has this app helped many? It is one of the best GFX Tools For Android because it fixes ping issues on any game. Most times your MS Might be High ping 230ms – 600ms even when you have a stable and Strong Internet Connection, so using GFX Tool, you can get around 30ms – 140ms with smooth gameplay and no lag.
3. 29 Game Bosster
This game Optimizer app will fix your game lags on PUBG and Also Call of Duty Mobile battle Royale lagging when an enemy is in front of you. It has a game booster system that reduces lag, cleans your device Ram used by irrelevant apps, and also freezes Background Apps, it lets you unlock the highest max FPS And Resolution, so you can and the graphics settings to reduce lag and stuttering while playing. If you love to, the all lets your Create beautiful nicknames with cool icons and Characters, it is available on android.
4. GFX Tool Pro For PUBG Battleground 60FPS
Oxygen labs is already famous for the stunning applications it keeps coming up with Recently the Company developed a GFX Tool Pro For PU Battleground That Could improve Graphics and Deliver a High and Experience.
The features application is meant to mitigate the shortcomings of mid Range smartphones. It has all the features that you can tel you run the amazing PUBG Mobile in High Quality.
Choose the Game graphics settings and apply the Changes before you Start Playing. Make sure that you do not forget to allow permission to the application as it will not impress you.
5.GFX Tools and Game Booster
If you are using devices with low rams like 1GB, 2GB, or 3GB Ram, then you should install this app on your android device. It is the best GFX Tool For PUBG, it will increase your Graphics to ulta, and then your Gameplay will get smooth. Out of the best GFX Tools App mentioned so far, this is highly recommended, it has an in built game booster features, so if you've been experiencing lag, the. This is the solution to it. With it's battery saver mode, Cool down mode, and GPU organization, potato Graphics with because ulta.
6. HD Graphics Tool [No Ban]
Narosys is yet another innovative company that came up with the best HD Graphics Tool Android so that we can run the Game on a low end device using this application, one can launch the application and choose the desired option.
Apply the changes and wait for the video quality to upgrade. Eventually, you will be allowed to play the Game likewise on a high end device.
7 Novytool – GFX Tool 120 FPS Graphics
Trilokia InC Recently Came up with a Novy tool that is Customized To Deliver a Fantastic HDR Quality Gaming Experience. You Can Enjoy Smoother Movement and Also make Changes to the Existing features.
The user are not going to encounter a banning problem with this application. There is also a save sensitivity settings mode that prevents Resetting any Changes that thave been made.
8. Battleground Advanced Graphics Tool [No Ban]
Jediar Studios Came Up With Battleground advanced Graphics Tool that is a perfect option For PUBG Lover's. You do not have to Suffer the backdrop of having a low end device Just download the Amazing Application, and it Will Optimize everything For you.
Grabbing Chicken dinner Becomes much easier with the application that is meant to add perfection to the entire game. After integrating the game with the application, you need to shut down the game Once so that all the Changes are applied well.
The advanced features of the application need storage permissions Else it would never work.
How to Download the Top GFX Tool For PUBG Mobile
If you are Confused about downloading these Various GFX Tools then you must have to read the below methods. These are the most Common method that everyone tries, but most of the new user gets confused.
Install it From the Play Store
There can be nothing better. Than having a GFX Tool that is Available in the Google Play Store. Just choose the installation Option After Spotting the Top GFX Tool For PUBG Mobile Else you can install it From third party websites.
Make Custom Changes in Config File
Make Customization Right After installing the application so that you can get the exact features that you want. There is absolutely no need to too the device. The application can work with simple Graphics Settings so that you can enjoy more FPS And Work abilities.
The Reason Why the higher resolution is important for the games is Because of the functioning party. You will be able to choose things According to your suitability Once everything is clearly visible.
Wrapping it Up So, that it Guy's. I really hope you found the best and working GFX Tool For Your PUBG Mobile game. Although l had mentioned only 8 Tools, as know, there are hundreds 9f others too.
Many users asked me for my favourite GFX Personally, l Would Prefer PGF+ Tool (Paid Version) because you can import any device setting without getting banned.
If you like this tool list, then don't Forget to share it with your PUBG Mobile Squad. Also, if you have any issue regarding these GFX Tools, or if I missed anyone, than you can comment down. I would love to add it here