Gaming
Fortnite Battle Royale LeBron James Skin Release Date Announced 14 July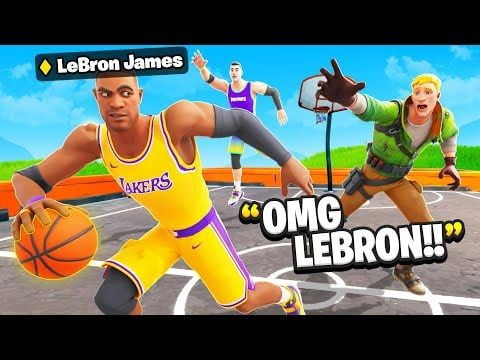 The Fortnite icon series is a range of game cosmetics celebrating the biggest name from Sport music gaming and culture Previous members include charts topping Rapper Travis Scott Spanish Streaming sensation Grefg and most recently Football star Harry Kane and Marco Reus. Fortnite Battle Royale LeBron James Skin Release Date Announced 14 July
Earlier this year during the landmark court case between Epic Games and Apple document Surfrced highlighting plans for some future Fortnite Collection's Among these was a potential upcoming icon series outfit for basketball legend LeBron James
In the last couple's of week's a series of leaks has near Enough Confirmed this link and up and seems to be approaching Fast on Friday a mural supposedly teasing the LeBron James skin appeared on the wall at the basketball court in believer beach. Fortnite Battle Royale LeBron James Skin Release Date Announced 14 July
I know what you're thinking the Doe's look like much That because this is Just The stage of the image and it's set to reveal more and more as get closer to the release date.
On July 14th the Fortnite items Shop will be taken over by an icon like no other until then feel free to Consider yourself Fortnite interim King
This means the skin's will arrives next week in midst of the NBA Finals
Magma Masters Pack
Rise up from the magma and rain fire down from the skies 🔥

Heat things up with the Magma Legends Pack! pic.twitter.com/L5vzZLKvb9

— Fortnite (@FortniteGame) July 9, 2021
If you don't want to wait to get something new for your locker then you in luck The highly anticipated Magma Masters Pack is Now available in the Fortnite Item Shop.
The pack Features fiery reworks of some fan-favourite skins plus a selection of matching accessories you will get
• Molten Ragnarok Outfit
• Feathered Flames Back Bling
• Roast Lord Outfit
• The Fire Back Bling
• Incinerator Kuno Outfit
• Flaming Dual kama Back Bling
Magma Masters is a real-money purchase priced at $14.99 or local equivalent According to Dateminer @firemonkey the pack, will be around until July 26.