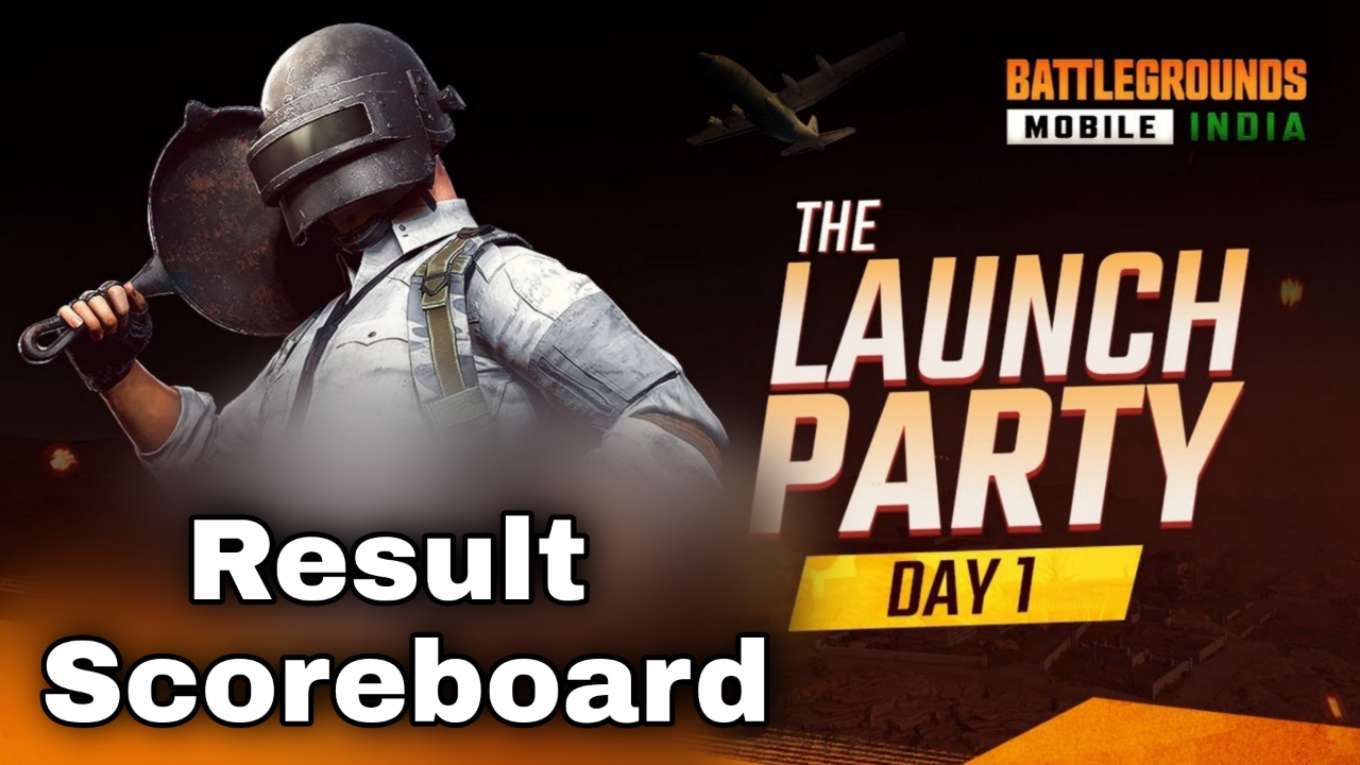 BGMI Launch Party Day 1 is an exciting day for a new e-sports era There were more than 1.5 lakh likes on the screen even before the start of the program and When the tournament started and its first match came, more than 450000 watches have gone on YouTube's live stream. And more than 500k likes have been completed on this live stream.
Today's best team is Team SNAX this takes all 3 Chicken Dinner with 31 Finishes and 76 points on Day 1 maybe the tournament winners Team SANX if he takes one chicken dinner on day 2.
Below we have told you the scoreboard in detail, where you can see the scoreboard of every team, and do not forget to comment.
Day 1 Pen Fight Winner
The result of the pen fight is not today it will tomorrow because of technical Issues But Both pan fight matches Played tomorrow.
Day 1 Match 1 Map Erangel
Winners are Team Sanx with 11 Finishes
Full Scoreboard Match 1 Erangel
Team SNAX 1 WWCD 11 Finishes 26 Points
Team KRONTEN 0 WWCD 13 Finishes 25 Points
Team RONAK 0 WWCD 5 Finishes 13 Points
Team SANGWAN 0 WWCD 2 Finishes 12 Points
Team MORTAL 0 WWCD 7 Finishes 11 Points
Team GHATAK 0 WWCD 2 Finishes 8 Points
Team GODNIXON 0 WWCD 5 Finishes 5 Points
Team K18 0 WWCD 4 Finishes 5 Points
Team MAXTERN 0 WWCD 3 Finishes 4 Points
Team ALPHA 0 WWCD 2 Finishes 4 Points
Team ANTARYAMI 0 WWCD 2 Finishes 3 Points
Team BANDOOKBAAZ 0 WWCD 1 Finishes 2 Points
Team GURU 0 WWCD 1 Finishes 2 Points
Team DYNAMO 0 WWCD 1 Finishes 1 Point
Team CLASSIFIED YT 0 WWCD 1 Finishes 1 Point
Team CLASH UNIVERSE 0 WWCD 1 Finishes 1 Point
Team JONATHAN 0 WWCD 0 Finishes 1 Point
Team SHREEMAN 0 WWCD 0 Finishes 1 Point
Day 1 Match 2 Map Miramar
Winners are Team SNAX with 12 Finishes
Full Scoreboard Match 1 Miramar
Team SNAX 2 WWCD 23 Finishes 53 Points
Team KRONTEN 0 WWCD 18 Finishes 31 Points
Team ANTARYAMI 0 WWCD 10 Finishes 23 Points
Team MORTAL 0 WWCD 12 Finishes 22 Points
Team GHATAK 0 WWCD 6 Finishes 22 Points
Team RONAK 0 WWCD 9 Finishes 21 Points
Team K18 0 WWCD 6 Finishes 16 Points
Team SANGWAN 0 WWCD 3 Finishes 14 Points
Team DYNAMO 0 WWCD 7 Finishes 9 Points
Team ALPHA 0 WWCD 6 Finishes 9 Points
Team MAXTERN 0 WWCD 5 Finishes 7 Points
Team GODNIXON 0 WWCD 5 Finishes 5 Points
Team CLASH UNIVERSE 0 WWCD 5 Finishes Points 5
Team BANDOOKBAAZ 0 WWCD 2 Finishes 4 Points
Team GURU 0 WWCD 2 Finishes 3 Points
Team CLASSIFIED YT 0 WWCD 2 Finishes 2 Points
Team SHREEMAN 1 WWCD 1 Finishes 1 Point
Team JONATHAN 0 WWCD 0 Finishes 0 Points
Day 1 Match 3 Map Sanhok
Winners are Team SANX with 8 Finishes
Full Scoreboard Match 3 Sanhok
Team SNAX 3 WWCD 31 Finishes 76 Points
Team KRONTEN 0 WWCD 22 Finishes 36 Points
Team RONAK 0 WWCD 13 Finishes 35 Points
Team SANGWAN 0 WWCD 12 Finishes 31 Points
Team MORTAL 0 WWCD 18 Finishes 28 Points
Team ANTARYAMI 0 WWCD 11 Finishes 25 Points
Team GHATAK 0 WWCD 6 Finishes 23 Points
Team CLASH UNIVERSE 0 WWCD 8 Finishes 20 Points
Team MAXTERN 0 WWCD 10 Finishes 18 Points
Team ALPHA 0 WWCD 12 Finishes 17 Points
Team K18 0 WWCD 8 Finishes 17 Points
Team GURU 0 WWCD 6 Finishes 11 Points
Team GODNIXON 0 WWCD 9 Finishes 9 Points
Team DYNAMO 0 WWCD 7 Finishes 9 Points
Team BANDOOKBAAZ 0 WWCD 3 Finishes 5 Points
Team JONATHAN 0 WWCD 4 Finishes 4 Points
Team CLASSIFIED YT 0 WWCD 2 Finishes 3 Points
Team SHREEMAN 0 WWCD 2 Finishes 3 Point